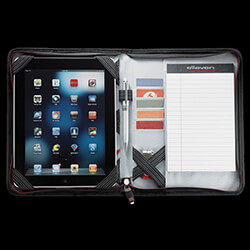 Buy Personalised Compendiums & Portfolios With Your Logo
We offer a carefully selected range of promotional portfolios, compendiums and jotters. We won't be beaten on price for any identical item form our competitors and we offer a 100% free mock up service which enables you to see the final product prior to production of your order. Don't delay, we are on standby to assist with your promotional item needs, contact us now for a fast written quote right to your inbox within 30 minutes. Or call our sales team on 02 6555 4001.

Browse All products below
Compendiums & portfolios for any corporate event
The most effective corporate gifts are those that your target professionals are going to get plenty of use out of. Anyone who has ever attended an expo or trade show has received their fair share of branded ink pens, key rings and paper weights. Simple products like this are useful, and that ensures that they stay on top of the desk instead of going into the drawer. Even so, Dynamic Gift is eager to take campaigns like this to the next level.
In our experience, the most effective marketing gifts are those that leave the desk and head out of the office with the professional. What many of our clients don't realise is exactly how cheap smart-looking compendiums can be—especially if purchased in bulk. These are ideal gifts to place in the hands of professionals that you intend to convert to clients.
The Perfect Gift for B2B Clients
We offer gifts like this in a variety of styles. Some are made from top-grade Nappa leather, so it's safe to assume that recipient will genuinely appreciate the gesture. Of course, they don't have to know that you placed a large order and received several of these slick, professional accessories at a steep discount.
When you're courting business professionals—whether to secure a contract or attract a difficult-to-land employee—a carefully selected gift makes a great impression. Dynamic Gift is ready to respond with business compendiums that can be screen printed or engraved with personalised information. This means that you stamp the exterior with your company logo and then laser the recipient's name onto a metal badge.
Steal the Show at Your Next Trade Show
Running a successful booth at an Australian trade show is exhausting. When the competition is stiff, it can seem all but impossible to attract attention to your organisation and its projects. Attract attention by distributing higher-value gifts such as portfolios that visiting professionals can use for the duration of their visit. Organisational tools like this enjoy plenty of use at a standard expo, and you can bet that more than a few people in the crowd forgot to bring their own.
This is an excellent promotional tool for a trade show environment, because you have the chance to screen potential recipients. Maintain a stash of general gifts to pass out in general, while reserving these higher-value items for promising leads.
Reward Your Own Employees
These gifts can also be leveraged within the home office. Jotters, iPad cases and other leather binders have a utilitarian value. Virtually any professional could get use a gift like this. Within the office, any of these could excellent gifts to incentivise and reward performance. You can place a custom order to reward a specific employee, or place a wholesale order for distribution to the staff at large. In either case, your employees are going to feel more appreciated. Finding ways to boost morale in the office is a subtle but effective strategy for cranking up efficiency.