USB Leather Ten
Promotional Leather usb drives. Made from premium grade materials with a functional fold out design with magnet closure. Featuring high quality, hand assembled design with premium grade samsung chips these usb drives are certain to impress your clients.
Read More...
Rush Service
5 Days *
Minimum Order
25
Artwork Design
100% Free
Purchase Orders Accepted For Government Departments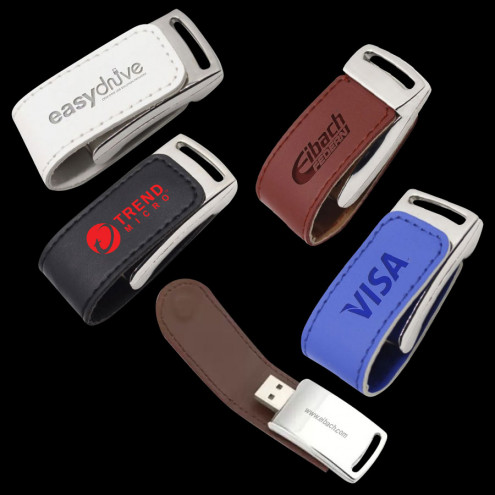 Purchase Orders Accepted For Government Departments

10 Year Chip Warranty
We offer a 10 year warranty on the functionality of the microchips used in our USB drives.
Capacity Available
Please specify a capacity when requesting a quote. Capacities available are: 128MB, 256MB, 512MB, 1GB, 2GB, 4GB, 8GB, 16GB, 32GB, 64GB, 128GB
Computer and device compatibility
Our custom USB flash drives function with all operating systems including: Windows, 7, 8, 8.1, 10, Vista, XP/2000/ME/98/95. Drivers are required for Windows 98 & 95, Apple Macintosh, OS8.6 and above. Linux, 2.4 X and above.
USB 2.0 as standard
All of our chips are high speed USB 2.0 or 3.0 (additional charges apply for USB 3.0 - All USB Drives are USB 1.1 compatible.
Data Retention time
Data lasts on a USB drive for 10 years minimum (dependant on microchip functionality) - With 500,000 read/write cycles.
Data Customisation services
We offer the following data services: Standard date preloading, Menu-Prompt Autorun, AutoPlay Autorun, Non-Erasable Content, Autoplay & autorun (based on operating system rules), Custom icon creation, Creation and USB serialization services
Branding Method:
Full Colour Print
Unlimited colours, gradients and photographic images can be printed onto this item.
This allows for your logo to be branded onto the item in a multitude of vibrant colours.
Pad Printing
Select up to 4 pantone colours to be printed onto your items. Pad printing creates a crisp block colour design of your logo or emblem. (Colours available may varie based on product).