RFID Full Colour Tyvek Wristbands
RFID Full Colour Tyvek Wristbands
Introducing our RFID Full Colour Tyvek Wristbands - the perfect solution for your event or workplace needs. These wristbands are made from tear-resistant, non-stretch 100% waterproof material that is comfortable to wear. They can be printed with your logo, details, holographic images, photographs, and anything else you desire.
But that's not all - our RFID or NFC technology allows for contactless transmission of data. These cards and tags can be used to unlock doors, issue commands to machinery, open a web page, make a phone call, or send an SMS. They are also perfect for barcode-type operations like membership sign-in and logging of certain actions within the workplace, as well as stock and inventory management.
Our compatible NFC products are available for all major brand equipment. Simply provide us with your frequency requirements or the make and model of your scanning equipment, and our team will ensure the correct product is supplied.
Benefits of our RFID Full Colour Tyvek Wristbands include:
Tear-resistant and non-stretch material for one-time use
Customisable with your logo, details, and more
Waterproof for added durability
Contactless transmission of data for easy access and management
Contact us today for a free artwork proof and a no-obligation quote emailed to you in minutes. Let us help you take your event or workplace to the next level with our RFID Full Colour Tyvek Wristbands.
Read More...
Rush Service
4-5 Days *
Minimum Order
100
Artwork Design
100% Free
Purchase Orders Accepted For Government Departments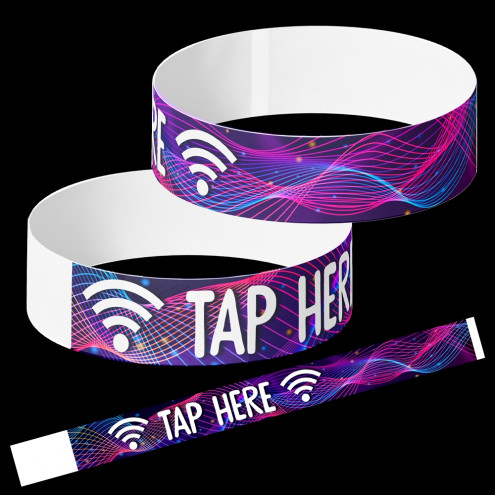 Purchase Orders Accepted For Government Departments
Customisation Options:
Base Colours:
Size:
250 x 19mm
Tyvek Wristband Features
Non-Transferable
100% Waterproof
100% Customisable
3 Star Security Rating
Ideal for one day events
Non-Stretch
Efficient and practical crowd control
Great for identifying advanced payers
Perfect for controlling VIP areas
Great way of verifying your drinkers / age verification
Best way to eliminate lost tickets
Very comfortable to wear
Extremely tough, melts not burns
Party Packs available in boxes of 100, 250 & 500
Printed bands come in boxes of 1000 units
All Tyvek Wristbands can be Sequentially Numbered
Can be custom printed (including logo and text)
Adhesive closure with unique cut guards against transfer
2 widths available (19mm and 25mm)