Oasis Pen, USB & Power Bank Cardboard Gift Set
Oasis Pen, USB & Power Bank Cardboard Gift Set
This gift set is packed in an eco-friendly two piece cardboard gift box, featuring:
x1 Aluminium 4000mAh Matrix Power Bank
x1 Aluminium Napier Pen
x1 Aluminium Swivel 4GB USB Flash Drive
Includes 3 in 1 Connector with Type C, Micro USB and 8 pin cables
We also offer custom printing with this product, allowing you to feature your businesses logo or details.
Enquire today to receive your 100% free no obligation quote and virtual sample sent straight to your inbox.
Read More...
Rush Service
5 Days *
Minimum Order
25
Artwork Design
100% Free
Purchase Orders Accepted For Government Departments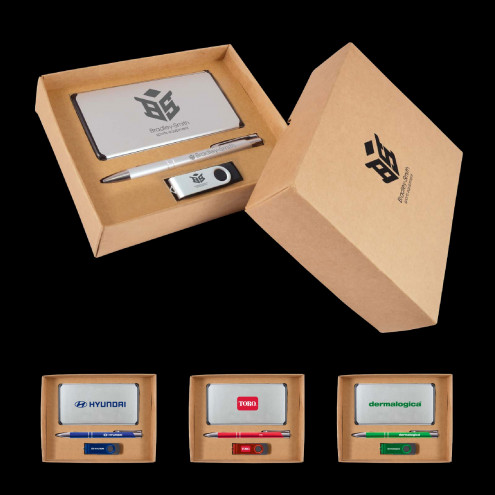 Purchase Orders Accepted For Government Departments
Size:
242 x 202 x 24mm (LxWxH)
Colours Available:
Pen: White, Silver, Orange, Red, Dark Green, Light Blue, Dark Blue, Dark Grey, Black
Power Bank: Silver, Black
Flash Drive: White, Silver, Orange, Red, Purple, Dark Green, Light Blue, Dark Blue, Black
Personalisation Options/Size:
Laser Engraved
Power Bank - 80 x 50mm (LxH)
Flash Drive - 27 x 14mm (LxH)
Pen - 50 x 6mm (LxH)

Pad Print
Power Bank - 60 x 50mm (LxH)
Pen - 50 x 7mm (LxH)
Box - 60 x 60mm (LxH)

Digital Print
Power Bank - 80 x 50mm (LxH)
Flash Drive - 27 x 14mm (LxH)
Sleeve - 375 x 170mm (LxH) See template