Printed Nylon Lanyards
Flat nylon lanyards are our second most popular material. However nylon is superior to polyester. it offers more complex print options including heat transfer print and screen print with up to 5 colours, It is also a finer high lustre weave that provides more prominent branding.
Read More...
Rush Service
5 Days *
Minimum Order
50
Artwork Design
100% Free
Purchase Orders Accepted For Government Departments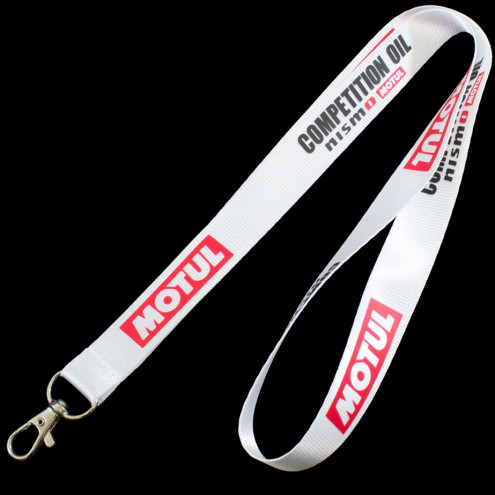 Purchase Orders Accepted For Government Departments





Nylon Lanyards
Nylon is stronger and more durable than polyester, And Can be Pantone dyed to your preferred colour choice.


High lustre finish.
Perfect for complex screen prints.
Strong and durable.
Comfortable to wear.
Print in up to 5 colours in great detail.
Nylon is economical to personalise and offers a premium alternative to standard printed polyester lanyards. See below for material close ups and further information.
Further information
Silk-screen imprinting is a method of transferring ink onto a fabric surface through the designs outlined in a fine mesh screen. This method produces very good to exceptional quality yet is the most economical due to its simplicity. Advances in silk-screening have made it possible to create depth and gloss through additional ink application passes, rendering high-quality, decal-like results.

We always strive to meet our customers' needs.
And you wont find a higher quality more luxurious type of lanyard material. This results in a clear and crisp Logo imprint.

Nylon lanyards are the choice for most large organisations, complex logo reproduction is a breeze with nylon being such a fine weaved material it is no wonder that so many companies turn to this fabric for ultimate branding options.

The silk content in the material means that these lanyards are soft to touch and are also stronger than standard polyester lanyards.

Nylon lanyards may also be described as very similar to a seat belt material, however much softer and not as harsh on the skin as a seatbelt.
Nylon is a generic designation for a family of synthetic polymers known generically as polyamides and first produced on February 28, 1935 by Wallace Carothers at DuPont. Nylon is one of the most commonly used lanyard materials today.

Nylon was first used commercially to manufacture tooth brush bristles, Soon after it was used to manufactured womens stockings (also called Nylons).

Nylon lanyards are made of repeating units linked by peptide bonds (another name for amide bonds) Occasionally nylon lanyards will be reffered too as Polyamide Lanyards or (PA Lanyards).

Nylon was intended to be a synthetic replacement for silk and substituted for it in many different products after silk became scarce during World War II. It replaced silk in military applications such as parachutes and flak vests, Nylon lanyards are more durable and stronger than polyester lanyards, they are manufactured from using the same fundamentals as tyre internals or (Tyre canvas).
High resistance to:
Insects, Fungi and Animals
Molds, Mildew, Rot
Many chemicals
Melts instead of burning, Excellent for safety lanyards.
Used in many military applications.

Nylon lanyards truly are an excellent lanyard material are are superior to polyester in certain applications.