Alliance Pen & 4GB USB Cardboard Gift Set
Alliance Pen & 4GB USB Cardboard Gift Set
This gift set is packed in an eco-friendly two piece cardboard gift box, featuring:
x1 Aluminium Miami Pen
x1 Aluminium Swivel 4GB USB Flash Drive
We also offer custom printing with this product, allowing you to feature your businesses logo or details.
Enquire today to receive your 100% free no obligation quote and virtual sample sent straight to your inbox.
Read More...
Rush Service
5 Days *
Minimum Order
50
Artwork Design
100% Free
Purchase Orders Accepted For Government Departments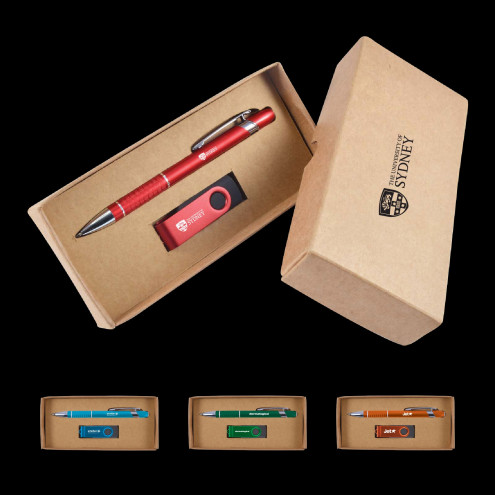 Purchase Orders Accepted For Government Departments
Size:
160 x 72 x 30mm (LxWxH)
Colours Available:
Pen: Silver, Orange, Red, Dark Green, Light Blue, Dark Blue, Dark Grey, Black
Flash Drive: White, Silver, Orange, Red, Purple, Dark Green, Light Blue, Dark Blue, Black
Personalisation Options/Size:
Laser Engraved
Pen - 40 x 5mm (LxH)
Flash Drive - Top - 27 x 14mm (LxH)

Pad Print
Box Lid - 60 x 60mm (LxH)

Digital Print
Flash Drive - 27 x 14mm (LxH)
Sleeve - 264 x 168mm (LxH) See template