Hand Shaped Highlighter
Introducing our Hand Shaped Highlighter, the perfect promotional item for your next event or marketing campaign. This unique highlighter is not only functional, but also eye-catching and memorable.
Personalised with your company logo or message
Available in a range of colours
Features five different coloured highlighters in one
Compact and easy to use
Stand out from the crowd with this fun and practical promotional item. Perfect for schools, offices, and events, the Hand Shaped Highlighter is sure to leave a lasting impression on your clients and customers.
Contact us today for a no obligation quote emailed to you in minutes. Let us help you create the perfect promotional item for your business.
Read More...
Rush Service
Special *
Minimum Order
500
Artwork Design
100% Free
Purchase Orders Accepted For Government Departments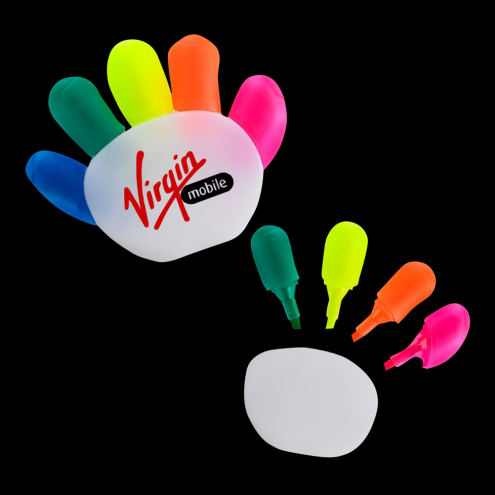 Purchase Orders Accepted For Government Departments
Product Size:
10cm W x 8cm H
Colours Available:
White
Print Size:
4.5cm W x 2.5cm H
Digital Print Size:
3.5cm x 2.3cm
Specification
10cm W x 8cm H