YMCKO Printer Ribbon To Suit Primacy
YMCKO Printer Ribbon To Suit Primacy
You can use Evolis YMCKO ribbon for every single or double-sided Colour printing. In addition to the standard Colours (Yellow, Magenta, Cyan and Black), YMCKO ribbons apply a protective varnish onto your cards, to retain a high quality of image despite its frequent use.
Prints Per Roll: Up to 200
Cards Lifespan: Up to 3 years
Applicable Printers: Zenuis & Primacy printers
The art of printing cards is about making each item stand out. Our Primacy replacement ribbon is suitable for all Zenius and Primacy printers, making sure that each image is of the highest quality, despite frequent use.
Read More...
Rush Service
24 Hours *
Minimum Order
1
Purchase Orders Accepted For Government Departments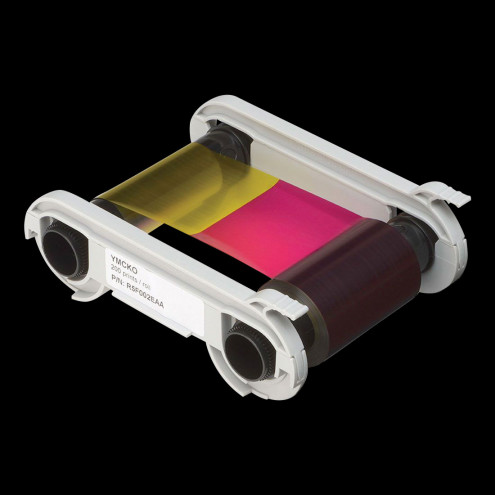 Purchase Orders Accepted For Government Departments
A World of Colour
The Evolis YMCKO ribbon doesn't just add provide the standard colours yellow, magenta, cyan, and black, but the additional feature of an overlay guarantees a protective varnish on your cards. The importance of keeping your ID cards to high quality is crucial, especially when they are being worn frequently. The protective overlay guarantees that you can optimise the quality of your logos and printed images with crystal-clear clarity, and with the potential to go up to 300 DPI resolution, you can guarantee perfect presentation in your pictures.
Long-Lasting and Durable
Using printed cards for work IDs, employment badges, or customer loyalty cards mean having a high-quality printer, but also having high-quality ribbons to go along with it. The Zenius replacement ribbon doesn't just guarantee your ID cards maintain a high quality, but will retain that shine long after they have left the printer, making your cards stand out.
Ribbons in Rapid Time!
When it comes to replacement ribbons, here at The Lanyards Factory, we pride ourselves on delivering great customer service, ensuring that we deliver replacement ribbons in rapid time to every area in Australia, ensuring you are not without replacement ribbons. Whatever you do, your ID cards can be presented to the high standard you expect.