Dye Sublimation Shirts
Choose everything on these completely bespoke custom manufactured polo shirts. Made tough for sports training, fishing, work uniforms and daily use. Full colour branding comes with an anti fade warranty and all shirts are available in multiple sizes per order.
210gsm Sportmesh Material.
Material matched to any colour.
Print entire panels edge to edge.
Print across multiple panels.
Manufacture any size from XXS to 5XL.
Read More...
Rush Service
10 Days
Minimum Order
25
Artwork Design
100% Free
Request A Free Quote!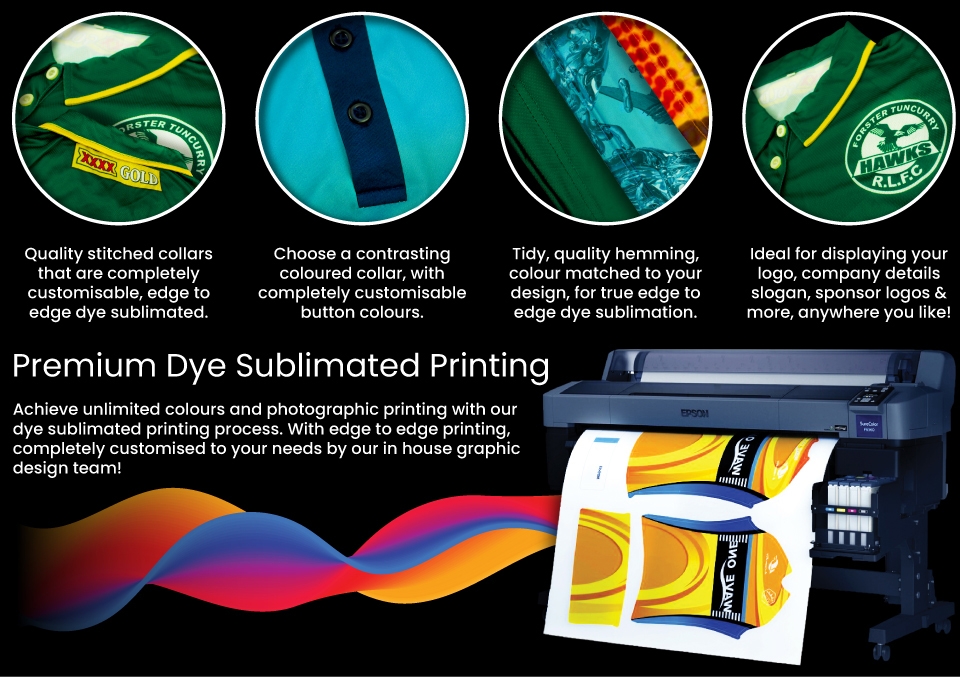 Why choose dye sublimation polo shirts?
Are you looking for a pocket-friendly personalised work wear? At Dynamic Gift, you have a wide variety of high quality, long lasting and affordable sublimation polo shirts. It is made tough for work uniforms, sports training and other daily uses. You imagine and we create which will be loved by everyone.
Stand out in a crowded marketing landscape
Want your team to stand out in the crowd? Want to customise your performance apparel? Sublimation is the most detailed and impressive way to do so and is one of our specialties. You think about any design, colour, gradient, font or effect, we can incorporate it. You can also design any sports team polo t-shirt for hockey, soccer, golf, cricket, etc.
The production process explained
Let's talk about how sublimation work so you know exactly what you are in for. Sublimation is defined as a process where the ink is burned into the threads of the garment. This is different from conventional silk screening as it is a process where the ink is caked on top of the material. Just like the design capabilities, the technical benefits of sublimation are stunning as well. Once the design is sublimated, it becomes the part of the garment, which means the image surface will not crack or fade away with time, or with repeated wash, sweat will absorb through the design and if you stretch the fabric, the design will stretch as well.
There are two types of sublimation that we cater to. The first one is full body sublimation which involves sewing of sublimation panels of cloth on the jersey. This allows you to incorporate every inch of the garment and maximise the design space.
The second type is spot sublimation which involves sublimation to a smaller area of an already sewn white garment. This is different from screen printing and is chosen over the latter. In the case of spot sublimation, you can have as many colours in your logo or design without having to pay for the extra screen set up fees.
Spread awareness, Australia's #1 Promo Company can help
Imagine someone wearing your brand. Feels great, right? This is also an amazing way to increase the visibility of the brand which in turn increases the brand awareness. The more people use them; the more they'll know about the brand, the more will be your return on investment.
At Dynamic Gift, you'll get the best quality product at the best price available in the market. So, wait no more. Call us at 02-6555-4001 and place your first order.