You know who doesn't like flash drives? No one.
...well, almost no one, anyway. According to marketing studies, if you hand out promotional USB flash drives, 91% of people will keep them.
In fact, the only promo products people like better than flash drives are the awesome, super-unique flash drives that we're about to show you. These cool flash drives take a good thing and make it even better. Check it out!
Why Flash Drives?
First, in case you're concerned that flash drives are becoming obsolete, fear not. There are plenty of good reasons people still like flash drives even though we now have cloud storage technology.
There are still a ridiculous amount of cool tricks you can do with flash drives that you can't do with cloud storage. Among the most useful are removing malware and boosting system memory.
The other big benefit is flash drives don't depend on an internet connection like cloud storage does. A fast internet connection is not always available, but that isn't a problem with flash drives.
Now, let's check out some really cool flash drives you can use to promote your business, or as birthday gifts.
Business Card Flash Drives
Who cares about business cards, right? Boring!
But then, if your business card is also a flash drive, it's suddenly something useful that won't immediately get thrown away. Now it's a business card that 91% of people are going to keep.
We can do that for you. Check it out!
Action Figure Flash Drives
What if your company was a superhero? What if that superhero was an action figure? What if that action figure was a flash drive?
Okay, we're stretching it a bit. But it is seriously cool to have you, or one of your other company executives' likeness turned into a posable figure that stores 128 MB-128 GB of sweet, sweet data.
Pen Flash Drives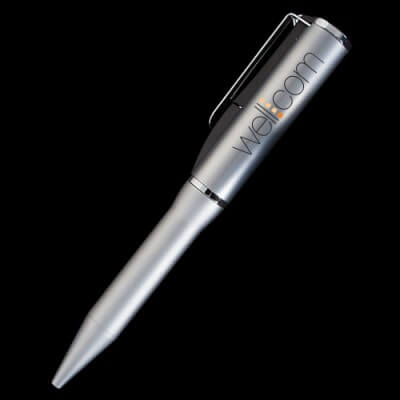 It's a flash drive you can write with! It's a pen that stores data! How can you beat that?
The only thing more useful than that is like a flash drive that's also a Swiss Army Knife. Now that would be something.
Swiss Army Knife Flash Drive
It is something. Behold: the (unofficial) Swiss Army Knife-style multi-tool flash drive. This is, without a doubt, one of the coolest flash drives, if not the coolest flash drive, of all time.
The Anything-You-Want Flash Drive
What if there was a way to make a USB flash drive shaped like anything you could imagine? You could shape it to look like your company mascot, your logo, yourself, your grandma, ANYTHING!
You can! We can craft literally any shape you ask us to into a USB flash drive that your customers will never forget. Try us.
Use These Unique Flash Drives To Promote Your Business.
These unique flash drives will make you a hit at the next trade show. They also make great gifts for literally everyone.
What are you waiting for? Go get some!
For more tips on how to be cool, check out How to Make Sure Your Trade Show Booth Has the Coolest Giveaways. For more about flash drives, see Why Promotional USB Drives Are Still a Good Marketing Tactic.