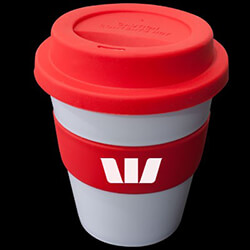 Get Custom Printed Travel Mugs Delivered Fast
Browse All products below
Quality promotional products don't have to be expensive. We sell a wide range of custom items that are both practical and affordable. If you are looking for ways to help save the planet, buy some of our promotional carry mugs. You will be able to stop giving your cutomers paper and plastic cups and as an added bonus you will be able to have the name of your restaurant or café printed across the mugs. This will ensure that you are not only being eco-friendly but you are also advertising your business at the same time. Dynamic Gift always has our customer's expectations in mind.
Quality and Consistency Guaranteed
You can always be sure that the products you buy from us are hardwearing and durable. Our travel mugs come in a wide range of designs, materials and sizes and every one of them can be customised to your personal specification. Whether you are planning a corporate event and you are looking for some quality, branded gifts or you are sponsoring a local event and you want to advertise your company and the products and services it offers, you can rest assured that Dynamic Gift will be able to fulfil your requirements. We also ensure that our promotional gifts can be custom printed with your company name, logo or website address. We sell quality products at wholesale prices across Australia and to many other countries all around the world.
Inexpensive and Functional
Our corporate gifts come in many shapes, sizes and designs; we have quality travel cups and mugs that are manufactured to top quality standards and from quality materials. You will be able to choose from up to 900 colours and many different styles, ensuring that you get the promotional items you require at prices you can afford. Our mugs make outstanding corporate giveaways and because they are manufactured in accordance with tough, quality procedures, they should last for many years to come. You will be able to rely on our products to give your business the exposure it deserves at affordable prices.
Useful Gifts and Giveaways
We make sure that our products are useful as well as affordable. When you give a customer a corporate gift you need to give them something that will be used on a regular basis if you want to get your company exposed to as many people as possible. Our custom thermal cups make great gifts as they can be used thousands of times and each time they are used you will be able to give your business exposure if your company name and logo is printed on them.
Quality Service at Affordable Prices
We aim to give you the best quality you can get at prices that don't need to break the bank. Our range of promotional giveaways could be just what your company needs if it is looking for a cheap advertising option. Get in touch with us today and see how we can help you get exposure for your company and its services.