Ex20 3m x 6m Trade Show Booth
Ex20 3m x 6m Trade Show Booth
Seriously, you won't find a better company than Event Display to provide your next trade show marketing booth. We specialise in the complete solution, from design (yes we have our own graphic design team) right through to production, quality checks and delivery right to your door or directly to your event. Talk to us today because we offer a 100% free quote and virtual previous service where one of our team will actually draft you a concept visual of the final display booth for your perusal. Don't delay!
Read More...
Rush Service
10-14 Days *
Minimum Order
1
Artwork Design
100% Free
Purchase Orders Accepted For Government Departments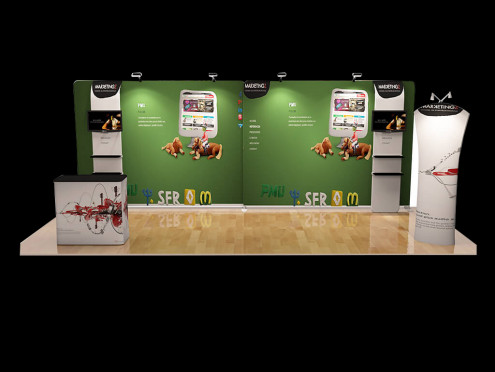 Purchase Orders Accepted For Government Departments
Carefully crafted displays

We Don't let poor quality products leave our factory and every single item we produce has been carefully designed. You would be surprised just how much design plays a roll in these products, something badly put together or designed can be an absolute problem at your event, not just in look and finish but in setting up. If something doesn't click properly or fit together it can cause nightmares for your team.

For this reason every single trade show display has been assembled and checked prior to dispatch, we check for print consistency, structural integrity and send via express courier. Directly to your event.

We have a true love for what we do, and our people are the best at what they do. From our designers to our fitters and fabricators who actually mould the steel and aluminium used in your event display booth.
UV resistant inks with colour lock technology
All of our products are printed with the very best ink ink technology. UV resistant for outdoor events, designed to be gentle machine washed and of course it goes without saying that our colours are brighter and more vibrant than many of our competitors due to the massive amounts of research we put into buying and maintaining our print machinery.

Not only that, our designers are well versed in choosing the right colours and their knowledge of the printing methods used is invaluable in getting the right finish on your expo display.
Mix & match, custom create your own display
Don't just have what we present in front of you. We custom make these displays, every single exhibition display we make has to be produced on order and it is not even remotely a problem to custom produce your display from scratch. So go on! Let's design something amazing for your next event.