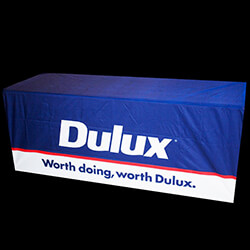 Table Cloths, Custom Branded Table Cloths.
Printed in awesome full colour digital and made to any size.
Did you know that Dynamic Gift Australia produce a completely custom tailored table cloth for use in your showroom or storefront either at your place of business or at expos and events. Who wants to sample a product or request information from a bland 6ft camping trestle table. Dress it up with a promotional table cloth custom branded with your message. They come in several variations to suit your table need and are custom cut to suit your table or desk size.
Browse All products below
An awesome way to cover up bland cocktail tables your bar or restaur...

This awesome inflatable display table is perfect for event, shops, r...
Table cloths, fitted, throws
Promotional tablecloths are an excellent choice for conferences and to further brand awareness at tradeshows and other important events as an alternative to banners and flags. Dynamic Gift has an outstanding range of customisable tablecloths that are perfect for your business needs; our fitted, throw and zip tablecloth varieties. With your business name and logo emblazoned in pantone colours they are guaranteed to stand out and attract positive exposure for your business, generating enquiries and interest in your products and services.
Generate Interest at Conferences
Conferences are an excellent means of generating interest in your products and services and our branded throws are the perfect means of generating further exposure for your business. Customisable according to your specific specifications, these outstanding promotional tablecloths ensure everyone in attendance knows exactly who is holding the conference and with full colour digital printing make an outstanding impression from near and far. Spill resistant and weaved from 180d Oxford Fabric, our printed promotional tablecloths retain their attractive qualities even when used time and time again, representing outstanding bang for your promotional buck.
Conveying Professionalism at Tradeshows
When you host a booth or stall at an Australian expo or tradeshow your business is presented for scrutiny by those present so it's essential that your business puts its best foot forward with its profile-raising efforts at important promotional events. Our fitted and throw printed tablecloths are an excellent choice at tradeshows and indoor events as they enable your employees to store promotional items underneath without being an eyesore. With four full-length panels to print in vivid colours with your business name and logo they ensure your branding objectives are met at any promotional event.
The Perfect Solution for Outdoor Events
Hosting an outdoor event can be a logistical nightmare when the weather is a factor. However, with an innovative new solution for outdoor events, our zip tablecloth that's customisable to your specific requirements, unpleasant weather needn't be allowed to take its toll on your advertising efforts. These ingenious promotional items are designed to withstand strong winds making them a first-rate selection for events held outdoors where blustery weather has traditionally posed problems. When fitted snugly to the trestles of a table and zipped up at the back, these customisable printed tablecloths hold their shape exceptionally well in gusty weather, stand out and represent an incomparable outdoor branding solution.
Step Up Your Branding Efforts
Branding is an integral aspect in raising awareness of a business and the products and services it has to proffer. Branded tablecloths have become a popular alternative to traditional promotional items such as banners, flags and stands, and with four full-length sides to emblazon with your business name and logo using full colour CMYK digital printing, effectively generate positive exposure. Lightweight to aid convenience when travelling, our range of printed table cloths are a first-rate means of stepping up your branding efforts at conferences, tradeshows and other corporate events at which putting your business's best foot forward is essential to your branding aims.