Retractable Pull Up Banners
Retractable Pull Up Banners
Promotional Pull Up Banners are the perfect solution for fast, high impact, exhibition display stands. A pull up banner stand can be deployed individually or tiled for extra impact. Pull up banners simply retract into their sturdy alloy base for secure transportation.

They are super quick and easy to set up and take down. Graphics can be designed to your liking by our in house design service. Which is offered free of charge and with no obligation. Simply send us your graphics or logo and let us do the rest! See below for standard sizes, fittings and more information.
Read More...
Rush Service
5 Days
Minimum Order
1
Artwork Design
100% Free
Request A Free Quote!
ll colour printing available front and back.

Full colour CMYK digital printing is available on the front and back of pull up banners. Allowing for greater design freedom that will tie in perfectly with your branding.
Quality Components and Carry Bag.

All our banners come in a complete kit, featuring: stands, carry bag, any optional fittings requested and all items required to get your banners setup and advertising.
Premium grade materials and printing base.

Manufactured using 210gsm polypropylene film with matt lamination. High grade steel base with polished mirror finish ends fitted.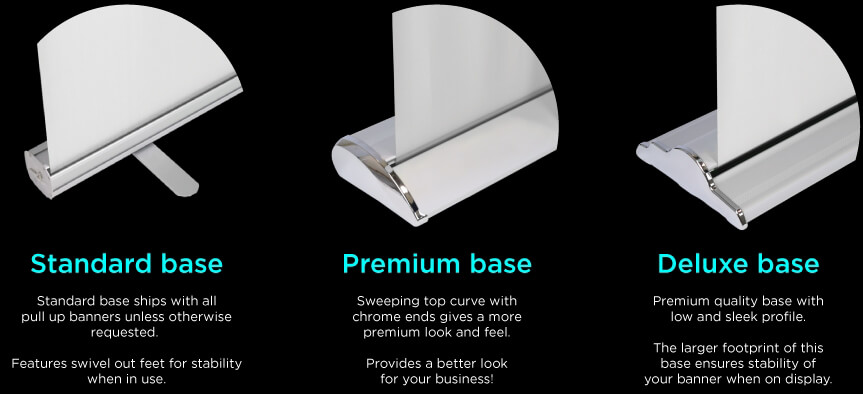 60 Second setup
With a lightweight self-supporting design, the pull-up banner is extremely simple to get setup. A banner system that is designed to showcase your brand without having an overly complicated setup process. Suitable for all events and purposes.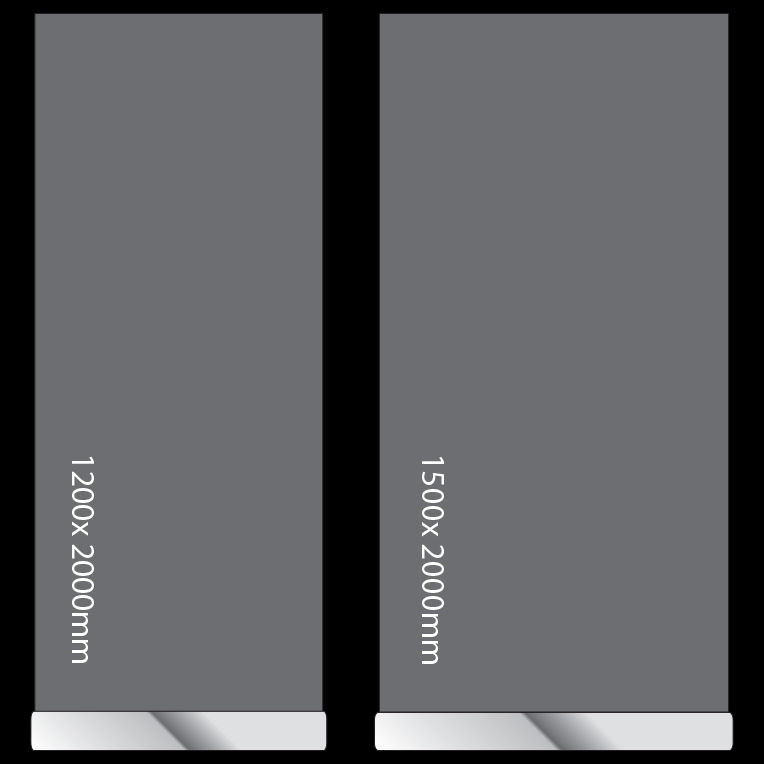 More information about pull up banners
Pull up banners are an effective and inexpensive form of advertising. They make an excellent marketing tool for all marketing professionals. They help with the sales and marketing process, and set the atmosphere for a great sales pitch. What makes these banners superior to other forms of advertising is the fact that they are portable and can pop-up in seconds providing a large advertising banner that you can display anywhere on your premises. Roll up banners are also easy to take down which makes them ideal for malls, exhibitions, showrooms, restaurants, tradeshows, travel hubs, event branding, and fairs. They can also be used as permanent displays at reception areas. Marketing your products, services, or company brand through banners helps draw attention to their best features. Banners list the benefits of your products and services, display your company' logo and information, and notify clients about new products and those that aren't a part of your company anymore. Dynamic Gift Promotions Australia has a wide range roll up banners to ensure you find the right one for your budget and needs. Here are some reasons why our banners are so popular.
Great Price
Our Price Beat Guarantee ensures you get the best deal for your banner. Promotional banners offer effective advertising at reasonable prices giving you excellent value for your money. They have stylish designs, superior durability and easy-to-carry features making them the best choice for your brand promotion. Banners have unique features and multiple functionalities which makes it easy to market your brand effectively even when you're on a limited budget.
Fast 10-Day Delivery
We produce and deliver pull up banners in 10 days at your doorstep anywhere in Australia. Our fast delivery ensures you save time on setting up product promotion launch events, display stands, and advertising booths. The time you save can be focused on other useful activities.
Easy To Set Up
Banner displays are easy to install, operate, and can be handled by unskilled people without any problems. They are becoming increasingly popular because of the little work required to set them up. The set up process can take as little as one minute! Banners are more economical to use than other display stands such as wall units. They offer an excellent way of displaying your marketing message with little to no effort. They can be set up by one person at an exhibition and taken down by one person. Our banners come in a kit with a carry bag, stands, and other optional fittings you may have requested. All items are fitted into one kit to minimize the time needed to set up the banner and start advertising.
Easily Transportable
Promotional banners are easy to take down as all you need to do is retract them into their strong alloy base before transportation. Their recoiling system makes them easy to set up, take down, store, and carry. Banners come with a carry bag which keeps them protected during transportation or storage. They are able to stay in a good condition for a long time because of their sturdy recoil system. They remain protected from moisture, direct light, and dust by their cartridges. Their size also ensures they don't take up a lot of space in car boots.
Excellent Form of Marketing
Roll up banners offer a great way of advertising your business, products, or services. Some have dual advertising features that can enhance the success of your advertising campaign. Double sided banners can help you generate twice the amount of customers in a marketing program. You can place the banners strategically at shopping malls, fairs, exhibitions, road shows, retail space, and point of sale to ensure you capture the interest of your potential customers in the best way possible.
Multiple Designs
Pull up banners come in different styles and designs which makes them more effective at conveying your promotional campaign in a skilled and professional way. You can choose the specific type of graphics you want and our in-house design service will create it for you. We have a dedicated artwork department always ready to design your banners. We offer high quality graphics printing and different mountings to ensure you get the best pull up banner for your brand. This service is free of charge and doesn't come with any obligations. All you have to do is send us the logo or graphics and we'll take care of the rest!
3 Year Frame Warranty
At Dynamic Gift Promotions Australia, we offer a 3 year frame warranty and a 1 year warranty on printed panels. Our banners are of the highest quality, durable, stylish, and add value to our customers. They ensure your advertising campaign is stress-free and let you focus on expanding your business as you market your brand.
Great for the Outdoors and Indoors
Roll up banners aren't just limited to outdoor use, they are also great for indoor use. They can be used in promotional pop-up stores, seminars, malls, trade shows, exhibitions, and receptions. These banners offer businesses an excellent way of advertising their products and services to clients in different places whether indoors or outdoors.
Full Colour Digital Printing
Our promotional banners have full colour printing on both sides to ensure your message gets across to the clients in the best way. We use full colour CMYK digital printing which allows for more design freedom that fits in perfectly with your branding.
Sturdy Construction
Banner stands can be tiled for extra effect or installed individually. They are sturdily constructed to withstand harsh weather conditions and remain stable because of their good structural design. They are held straight by a twist locking mechanism or a bungee pole.
Our pull up banners help you to increase visibility for your products, services, and brand. Attract your clients and potential clients at first sight with our stylish banners. No matter what your budget requirements are, we have the banner just for you. Don't miss out on the chance of acquiring one of our great promotional banners. They offer the perfect solution for quick and high impact advertisement.
Premium grade materials and printing base.