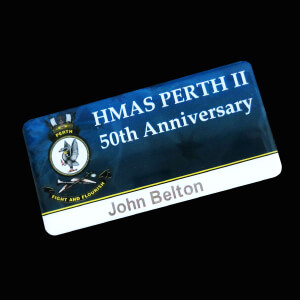 Get Custom Printed & Engraved Name Badges Fast
You may have seen many people wearing name badges in organisations, in restaurants etc. Name badges display the name of the person wearing it and it helps people to address them using their names. A name is one of the most precious possessions of a person. People love their names and when one is addressed by name the ice is broken.

Browse All products below
A promotional etched name badge, manufactured from a thin yet strong d...

Promotional name badges manufactured from metal with brushed finish. O...
A good ice breaker at any event
There are many advantages of using a printed name badge in organisations. Since there are a lot of employees in an organisation, it becomes difficult for everyone to remember the names of all the employees. But with a printed name badge, the employees can communicate easily and in a friendly manner. In organisations, where employee turnover is high, it is all the more important to compulsorily have name
badges
. Another advantage is that a printed name badge conveys professionalism. For example, if an organisation has a good sales force, a well-designed badge will ensure brand recall too. Printed name badges can be used at events, business meetings, functions etc. It is also one of the cheapest forms of advertising.
Affordable Security Solution
Every workplace has many people entering and exiting the premises. From a security standpoint it is dangerous as the security guards cannot tell the difference between employees, bonafide visitors and trespassers or intruders. However, when you have customised printed name badges the security guards would be able to discern employees and intruders easily. Name badges with swipe stripes can also be used as an additional security layer. Printed name badges can be ordered in both plastic and metal. Both can be customised to your needs. You have the option of adding the logo or the address of the organisation too. You can also select the font type, colour, size etc.
Built To Withstand Daily Use
Plastic name badges are made from ABS plastic which is thin but strong. ABS plastic is considered to be very durable and we can cut it any dimension that you require. The name badges can be engraved using lasers for a fine finish. Other decorations are printing, stamping, etching etc. With digital etching technology customised handcrafted badges are made with 960dpi print quality. You can even get rounded corners. Metal name badges are manufactured from metal with brushes. All metal badges are handmade and not made using machines. We also use the latest UV to substrate print technology. You can also get white coated and brushed silver finishes. The metal badges comes in classic domed, classic flat, premium dome, premium steel, premium steel dome and premium white models.
Why Choose Us For Your ID Badge Needs?
The best part is our Price beat guarantee, if you can get a better price in Australia, be it in Sydney, Melbourne or Brisbane, we will match it or beat it. If your organisation needs the badges in a hurry, we can deliver the badges in 5 days. If you do not have artwork and need artwork designed, we can do that too. If you do not like the artwork, we provide unlimited versions until you are satisfied.