In a world of digital marketing and social media adverts, sometimes it can be hard to know how to stand out in the real world.
If your marketing platform--or even your storefront--involves getting out in front of the crowd, digital marketing may not be enough to draw the eye.
Depending on the size of your business or your marketing platform, large-scale investments may not be in the budget for your next event. Thankfully there's another way: marquee tents.
Not to be overlooked, we're giving you the two most important reasons why investing in a marquee tent makes sense of your business or organization.
Don't delay. Read on to learn more.
Low Cost
Perhaps the best reason to consider investing in a marquee tent for your next event is the easiest. Their low cost and high durability make them an excellent investment for any size budget.
Their practical uses can't be undersold either. If your business hinges on outdoor events or marketing, marquee tents can be the difference between fair weather conditions or not. If it gets too hot in the summer months or too wet in the rainy season, a marquee tent can help shield you from the elements.
They're also easy to break down and set up, making them a versatile product you can dress up or down depending on your needs.
Of course, a marquee tent doesn't have to be plain or boring. In reality, it can create the kind of publicity that pays you back over and over again.
Free Publicity
One of the reasons promotional materials work so well (besides their low cost) is the free publicity they offer. Marquee tents can do the same.
Certain manufacturers can offer you tailored branding for your tent. Want your business logo or name imprinted on the top? That can be done.
Want bold colours sure to stand out? That's an option too.
The more your tent stands out, the more likely it is to attract the attention of new customers. In fact, making sure your logo is printed on the roof of your tent is one of the most important ways to get noticed.
Your name and logo aren't the only things you can advertise though. Your marquee tent can easily accommodate a website URL or social media handles too. This helps easily drive traffic to places where customers can learn more about your business or brand.
Different types of events? No problem. Marquee tents are easily customized to accommodate new or different panels to help you market directly to the customers in front of you.
Marquee Tents and More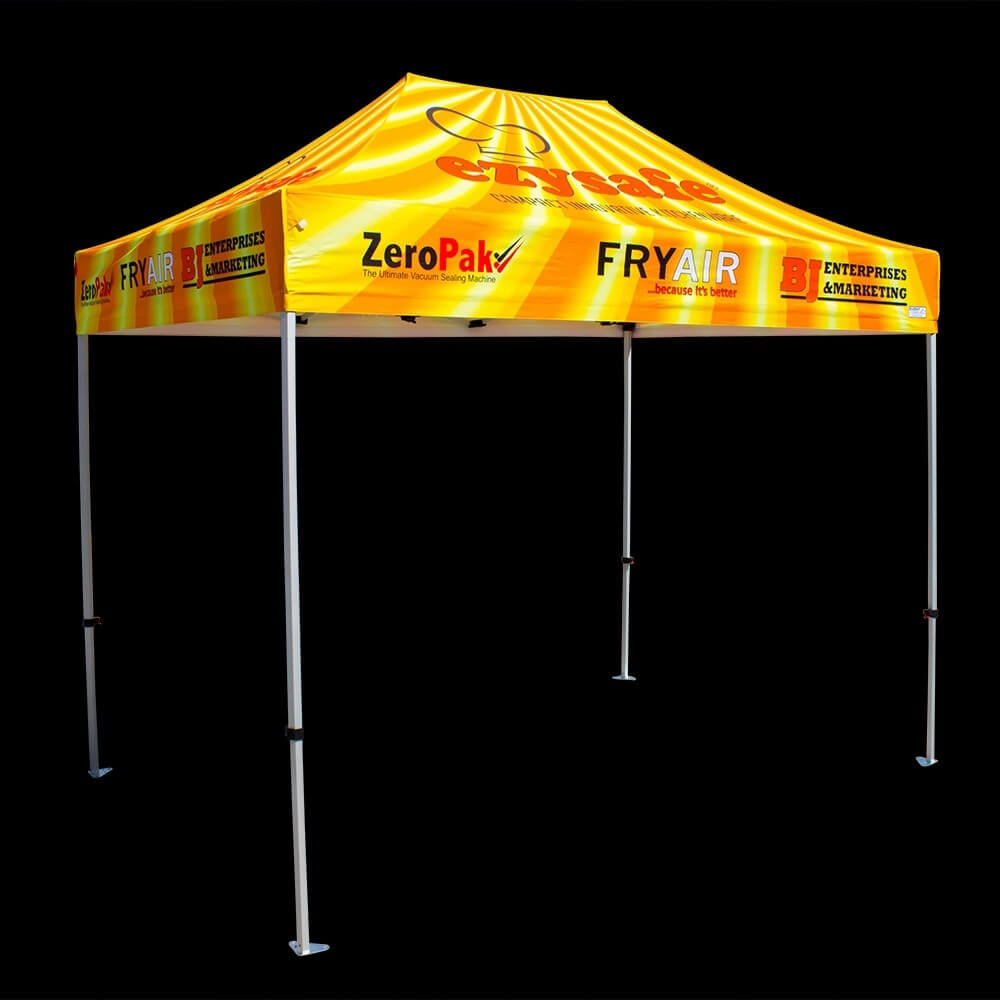 Most businesses spend a lot of time and money figuring out how to market themselves on the internet. It can be easy to forget about the kind of marketing you can be doing every day to the people all around you.
Our Marquee tents are just one way to make sure your business stands out from the crowd. Promotional products and corporate gifts are another way to get your brand in front of the people who need to see it.