Designed to increase brand awareness, incentivise new customers and reward existing buyers, promotional items, such as keyrings, pens, and USBs, are one of the most effective ways to increase your reach and promote your company.
Of course, choosing the right promotional gifts is crucial to attracting the right demographic and exposing your brand to your target market. With so many promotional options available, it can be tricky to know which ones will work best for your brand. If you want to build awareness and keep your company in the minds of consumers, check out our top promotional picks
1. Promotional Pens
Pens, pencils, and highlighters may seem like a straightforward option, but you'd be amazed at the brand visibility you gain by giving away these promotional gifts. Branded with your company name and/or logo, your pens will travel far and wide once you start giving them to customers and potential prospects.
2. USB Flash Drives
Combining functionality with branding opportunities, USBs are a cost-effective promotional gift that is likely to be re-used again and again. Perfect for both consumers and B2B clients, USBs are likely to be retained for a significant amount of time and used regularly by recipients. To ensure you're maximising your reach, why not add keyrings to your flash drives to offer users added flexibility?
3. Eco-Friendly Products
Perfect for organic, natural and/or vegan brands, eco-friendly promotional gifts highlight your company's commitment to sustainability and promote your brand too. With USBs, pens, bag, and lanyards all available in eco-friendly materials, you can combine the most effective promotional merchandise with increased environmental awareness to create the perfect giveaway.
4. Custom Towels
When you think of promotional products, towels may not be the first thing that comes to mind, but you'd be surprised at the branding opportunities they offer. Functional and fun, towels offer a significant amount of space to advertise your company. Include your business name, logo, tagline or slogan, as well as using corporate colours and designs to make your towels stand out. Whether people are using them at the gym, on the beach or on the golf course, your branded towels will reach thousands of consumers.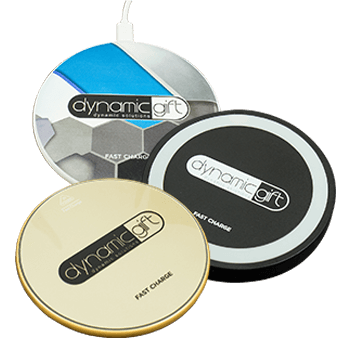 5. Wireless Charging
Increasing popular with consumers, wireless charging offers an easy and convenient way to keep mobile devices topped up. With the opportunity to add your brand to reliable and reputable wireless chargers, these are the ideal promotional gift to incentivise consumers and attract new customers. Available in a range of designs, you can incorporate added features, such as Bluetooth speakers, or opt for something a little different, such as wood charging pads, to give your brand maximise exposure.
6. Drinks Bottles
People regularly carry drinks bottles around with them, so by giving away just one promotional bottle, you're ensuring your brand is promoted in front of hundreds or even thousands of people. As well as single-use bottles, you can reward customers with branded sports bottles, metal drinks canisters, protein shakers, bespoke mason jars, and aluminium bottles. With hundreds of options to choose from, it's easy to find the right materials, products, and designs to represent your company.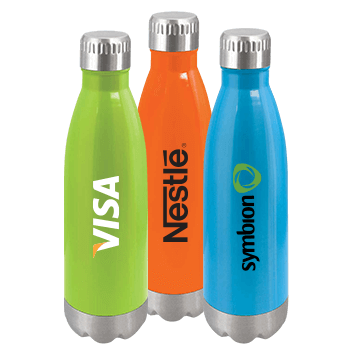 7. Earbuds and Earphones
Millions of people use earbuds or earphones on a daily basis, but they've been largely overlooked by companies who want to promote their business. In fact, branded earbuds are extremely popular with consumers and are an effective way to incentivise them into signing up to your service, registering with your website or making a purchase. Furthermore, eye-catching earphones are likely to catch the eye of other people, so your promotional gifts will work for themselves when they increase your reach.
Building Your Business With Promotional Gifts
Promotional merchandise and gifts are one of the most cost-effective ways to increase customer engagement and build brand awareness. New manufacturing methods and branding opportunities have created a plethora of merchandise, all of which can be designed to your specification or adorned with your corporate colours, logos, and typography.
Whilst any promotional product can be adapted to suit your needs, you may also want to consider the possibility of using industry-specific promotional merchandise to increase brand awareness with your target demographic.
If you're targeting pet owners, for example, branded dog leads or food bowls will appeal to the demographic you're trying to reach. Alternatively, automotive firms, such as car resellers, insurance companies, and car accessories companies, can reach their chosen demographic by offering branded air fresheners, microfibre cleaning cloths or car window signs.
With a range of budget-friendly options available, you can build your business, promote your brand and incentivise customers with a whole host of promotional gifts and merchandise. We have a large range of products to choose from, so put us to the test today and receive a quote & virtual sample free of charge. Browse here